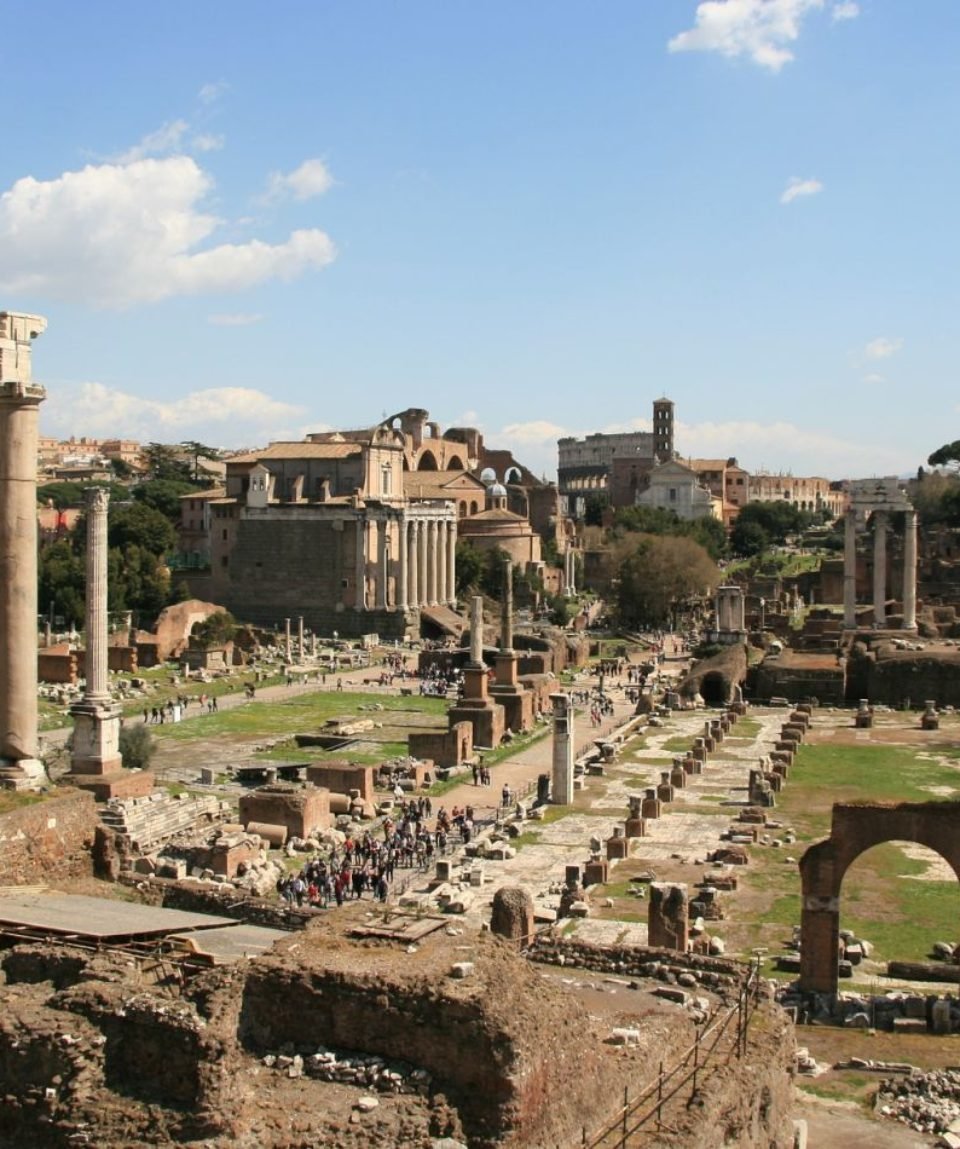 Enchanting city of Rome
Rome is an endlessly enchanting city. Home to incredible art, one of the most beloved cuisines on the planet, an endless number of neighborhoods to explore, and an impressive history that has been folded into the very fabric of modern Rome.
Vacation Style Holiday Type

Europe

Family

Food-wine

Heart

Urban

Heritage
All about the Enchanting city of Rome.
4 days in Rome gives you quite a bit of time to work with: you'll have the opportunity to see Rome's iconic highlights and also weave in some more offbeat experiences, including some interesting under-the-radar spots that hide in plain sight.
The fact that there's literally another country nestled inside the city – it's impossible to avoid finding something to love about Rome…as long as you know where to look. This 4 day Rome itinerary winds its way through several neighborhoods and historical time periods, focusing on 1-2 geographic areas each day. Your feet will be sore by the end of this itinerary – but we don't think you'll mind.
Day 1

Ancient Rome and The Jewish Ghetto

What better place to start your 4 days in Rome itinerary than at one of the most iconic sights in the world?

Step inside the Colosseum and marvel at the ancient history beating inside – but before you do, be sure to climb the steps on the north side of the Colosseum and get those classic photos in front of the Colosseum's exterior.

Head to the Roman Forum & Palatine Hill. While the Colosseum is one impressive monument of Ancient Rome, the Roman Forum and Palatine Hill boast several: from senate houses to public squares to palaces, these areas are an archaeological and historical treasure trove.

Though the Roman Forum is the most popular to visit, it's far from the only remaining forum of Ancient Rome visible in the city today. The Imperial Forum, Forum of Augustus, Forum of Caesar, and more are all just a short walk away from the famous Roman Forum – and unlike the Roman Forum, all of the other ancient forums are free to enter.

Stop by Piazza Venezia and Piazza del Campidoglio. Shaped into a perfect oval and surrounded by beautiful buildings, The Piazza del Campidoglio is a peaceful place to relax for a moment and take in the fact that you're in Rome. On your way to the Piazza del Campidoglio, you'll also pass right by the Piazza Venezia, with the impressive Altar of the Fatherland dwarfing everything around it. The monument was built in honor of Victor Emmanuel II, the first king of unified Italy.

Pay a visit to the Campo de'Fiori. This market square may be touristic, but it's also beautiful, bustling, and worth stopping by during your days in Rome.

Visit the Largo di Torre Argentina. This set of ruins is home to two points of interest that are wildly different from each other: the place that Julius Caesar was assassinated, and a cat sanctuary.

The ruins are open-air, laid out in the center of the square, and are made up of the remains of several temples as well as part of the Roman Senate where Julius Caesar was stabbed to death just under 2,000 years ago.

As if that wasn't enough of a reason to stop by during your days in Rome, the archaeological site doubles as a cat sanctuary!

Explore the Jewish Ghetto. While you're here, be sure to marvel at the exterior of the Great Synagogue, to check out the Teatro Marcello , to check out the lovely Porticus of Octavia, to visit the charming Piazza Mattei with its adorable Turtle Fountain, and to channel your inner Audrey Hepburn with a visit to the Mouth of Truth.

And, of course, be sure to sample the fried artichokes that are synonymous with food in the Jewish Ghetto of Rome – even if you're not a big vegetable fan, these are worth trying!

Day 2

Centro Storico and Classic Rome Sights

Start at the Piazza del Popolo. While you're there, be sure to climb up to Pincio Terrace for some beautiful views over the piazza and Rome itself.

A beautiful stroll through the Borghese Gardens will lead you right to the Galleria Borghese and arguably one of the most impressive art collections in Italy! Housed in a former palace, the Galleria Borghese is absolutely stunning and worth a visit during your days in Rome, especially for art lovers.

Stroll to the Spanish Steps. After a stop off at the Galleria Borghese, most of the second day of this Rome itinerary focuses on iconic Roman sights and popular tourist highlights, starting with the famed Spanish Steps.

Throw a coin in the Trevi Fountain. What's a Rome itinerary without a stop at the Trevi Fountain? The fountain is truly magnificent, and be sure to throw a coin in the fountain to ensure that you'll always come back to Rome!

Step inside the Pantheon. Built originally as a temple to all gods and later turned into a church, the Pantheon is worthy of its status as one of the best-known sites of Ancient Rome left in the city. No Rome itinerary would be complete without a chance to marvel at the Pantheon, so be sure to step inside and stare in awe!

Check out the Piazza Navona. The space known as the Piazza Navona has always been busy throughout Roman history: it has served as a stadium, as a food market, and even as a spot for public water parties! Today, it is known as one of the prettiest and most popular piazzas in Rome, boasting three ornate fountains that are perfect for perching on the edge of and watching the world go by.

Head over to Castel Sant'Angelo. A walk from Piazza Navona to Castel Sant'Angelo will lead you through not only more of Centro Storico, but across the Bridge of Angels, one of the prettiest bridges in Rome, which dead-ends into the Castel Sant'Angelo. As the tomb of Emperor Hadrian and some of his family, Castel Sant'Angelo is an impressive nearly 2,000 years old mausoleum.

Day 3

Vatican City and Trastevere

Start your day bright & early at the Vatican Museums. The Vatican Museums, with their magnificent art treasures, incredible map room, impressive globe collection, spectacular Sistine Chapel, and more, are an absolutely unmissable experience during your days in Rome – plus, as a bonus, visiting means that you'll actually be able to say you visited a whole other country!

Step inside St. Peter's Basilica. St. Peter's Basilica is, hands down, the most impressive church in all of Italy. Once you arrive out front, take a few minutes to admire the iconic oval Piazza del Pietro. The basilica itself is free to enter, but if your legs are up for it, we strongly recommend paying a bit extra to climb the dome. The views from the top, especially of the Piazza del Pietro, are fantastic.

Stroll to the Villa Farnesina. This fresco-covered Renaissance palace is a quiet, fresco-covered beauty. Stop by to admire the artwork, the loggia, and the ornate rooms of the palace.

Explore Trastevere. Trastevere is one of Rome's most beautiful and Roman-feeling neighborhoods. This is where you'll find some of the best examples of the iconic shuttered windows, colorful buildings, and narrow cobblestone streets that we all imagine when thinking of Rome. While you're there, but sure to head to the Piazza di Santa Maria, which is an adorable piazza, and to duck inside the Basilica of Our Lady in Trastevere, which boasts some magnificent mosaics.

Day 4

Testaccio and A Food Tour

Start your day with a 2,000-year-old pyramid. Pyramids aren't exactly the first image that comes to mind when we think of Rome, but the Pyramid of Caius Cestius has been standing proudly in Rome for 2,000 years!

Visit the Non-Catholic Cemetery of Rome. This beautiful cemetery is unique in the historically extremely Catholic city of Rome and houses some notable non-Catholics, including the poets Percy Shelley and John Keats. It's a lovely and peaceful place, and the views of the Pyramid of Cestius make an interesting contrast to the more recent headstones.

Stop by Piazza Testaccio. Strolling through Testaccio is a great opportunity to enjoy a more laid-back version of this classic feature of Roman life.

Snap a photo at the Keyhole on Aventine Hill. If you peer through the keyhole on Aventine Hill, you'll be greeted with a beautiful view : the dome of St. Peter's Basilica, framed by garden hedges.

Stroll through the Orange Garden. The Orange Garden is a gorgeous place, and a perfect spot to pause and relax during your days in Rome. Home to a grove of orange trees, the garden is meticulously manicured and a very peaceful place take in the stunning views of Rome that are available from the terrace at the back of the garden.

Circus Maximus was the first stadium in Rome and was known for its chariot races. Located between Aventine and Palatine Hills, you can still see remnants of ancient palaces staring down over Circus Maximus. Today, the site is a public park and is essentially a field with very few ruins remaining but that being said, it is very cool to see modern Romans exercising in the exact spot that chariots once raced!

What better way is there to say goodbye to Rome's cuisine than with a food tour?

Soak up all the best dishes in Rome, learn a few more things about the local food, and, since most food tours are walking tours, enjoy an afternoon stroll through some of Rome's prettiest neighborhoods before saying goodbye to the city.

If you'd prefer cooking to walking, you could also consider joining a cooking class and picking up some pasta-making skills to take home with you after leaving Rome!
This is a sample itinerary to inspire your holiday – it can be tweaked in every way possible from the places you want to go to and number of days you spend in each, as well as hotels you stay in and activities you do. Get in touch with one of our experts by calling +91 98226 66560 and we will start creating your perfect trip.