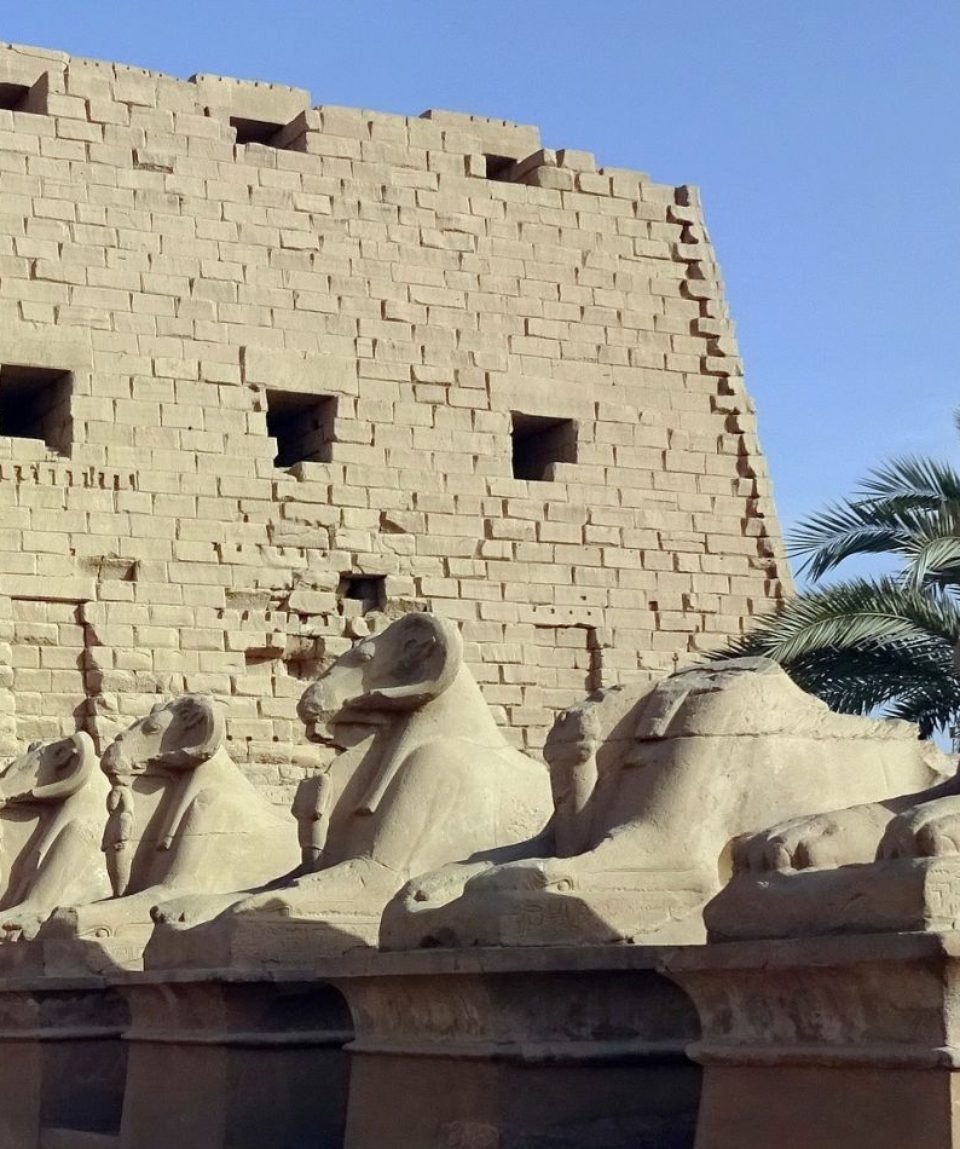 Experience Egypt
Egyptian history is like an enormous library – it is filled with more stories than anyone could know in a lifetime. Within every temple, mosque, tomb and palace there are countless years of fascinating tales-involving Kings and Queens, magic and myth, births and deaths and battles.
Vacation Style Holiday Type

Africa

Beach

Culture1

Desert

Egypt

Middle-east

Sailboat

Heritage
All about the Experience Egypt.
On this Egypt tour, we will reveal to you some of the most intriguing stories of this ancient land. This is the ideal tour for those who are interested in Egyptian history and want to see the temples of Luxor, the King Tut monuments and the Pyramids via land without taking a cruise down the Nile.
Join us on the Experience Egypt tour and experience some of the best that Egypt has to offer — from the Great Pyramids of Giza to the step pyramid of Saqqara, visits to the ancient tombs, temples by day and by night, a sunrise hot air balloon ride over Luxor, a sunset sailboat ride on the Nile, a fun-filled day of snorkeling in the Red Sea and so much more!
Day 1

Arrival in Cairo

Our representative will be waiting for you at Cairo International Airport with a sign with your name on it.

We'll grab your bags and our airport transportation will take you directly to the hotel for check in. You will have the rest of the afternoon to settle in and enjoy at your leisure.

Day 2

Giza and Saqqara

Today is the first official day of the tour and we're going big!

Your first stop of the day will be to The Pyramids of Giza where your guide will provide you with a little history and some interesting facts about this mysterious ancient wonder. Once you've snapped enough Pyramid selfies you'll make your way out to "Panorama", where you'll have the opportunity to take an optional desert camel ride (a guest favorite!) which takes you out to a spot with the most picturesque views of the Pyramids from a distance.

After lunch, you'll make your way to the pyramids of Saqqara to explore some of the tombs and temples at this ancient site. You'll also get a chance to see Djoser's step pyramid up close and personal.

Day 3

Cairo

This morning you'll head to the Egyptian Museum for a guided tour of the world's largest collection of Pharaonic antiquities. Here, you'll get the opportunity to see the solid gold death mask of King Tutankhamen and visit the Royal Mummy room.

After the Museum, you'll make your way to the Citadel to visit the Muhammad Ali Mosque — the most visited mosque in all of Egypt. Your guide will show you the highlights of the mosque and you'll have some free time to take some beautiful panoramic photos of the sprawling city below.

This evening you will fly to Luxor, check in to your hotel and get some well needed rest before a big day of exploring the ancient temples of Karnak and Luxor as well as a sunset felucca ride on the Nile.

Day 4

Luxor

This morning you'll explore the ancient temple of Karnak — the second largest religious site in the world and the second most visited historical site in Egypt.

Your guide will take you on a tour of the site and you'll have free time to explore all of the little nooks, crannies and photo opportunities that this enormous temple has to offer.

In the late afternoon you'll gather for one of our favorite parts of the trip — a sunset cruise on the Nile aboard your own private felucca.

Later, you'll spend the remainder of your evening touring the ancient temple of Luxor. You'll be amazed at how beautiful this temple is when it's all lit up at night.

Day 5

Luxor

This morning you'll have the opportunity to join us on an optional sunrise hot air balloon ride over Luxor. Yeah, it's an early start but trust us when we tell you that it will be one of the most memorable mornings of your life.

After you touch down, you'll explore some of the most popular sites on Luxor's famous west bank.

Your first stop will be at the Valley of the Kings where you'll get to enter a few of the ancient tombs. The most famous tomb here is the tomb of King Tutankhamen (aka King Tut) and you'll be able to enter his tomb at an additional cost. Your final stop of the day will be to the imposing limestone, colonnaded Temple of Hatshepsut.

Day 6

Luxor to Hurghada

This morning you'll be traveling from Luxor to Hurghada by private bus. The ride takes approximately 3.5 to 4 hours in total.

Once you arrive at your Red Sea resort, you will check in and have the day to spend at your leisure. Enjoy the pool, beach, spa or whatever else it is that you desire.

Day 7

Hurghada

Now that you've seen enough ancient temples and tombs to last you a lifetime, it's time to get some much needed vitamin Sea!

Grab your fins, snorkel, sunscreen and underwater camera (if you have one) and prepare yourself for a snorkeling adventure like none other.

Note: Those who want to sit this one out and kick back at the resort are free to do so although this is an optional that simply cannot be missed!

Day 8

Hurghada to Cairo

Take your time this morning and enjoy what's left of your time in Hurghada. Enjoy your last day by the pool or maybe take a dip in the sea!

In the afternoon you'll check out of the resort and make your way to the airport for your short flight back to Cairo.

Once you land in Cairo, you'll check in to your airport hotel for the night and you'll have the evening at your leisure.

Day 9

Depart Cairo

Today you'll be busy packing your bags and getting ready to head back home.

Due to our hotels proximity to the airport, transportation will be readily available for all of our guests.
This is a sample itinerary to inspire your holiday – it can be tweaked in every way possible from the places you want to go to and number of days you spend in each, as well as hotels you stay in and activities you do. Get in touch with one of our experts by calling +91 98226 66560 and we will start creating your perfect trip.