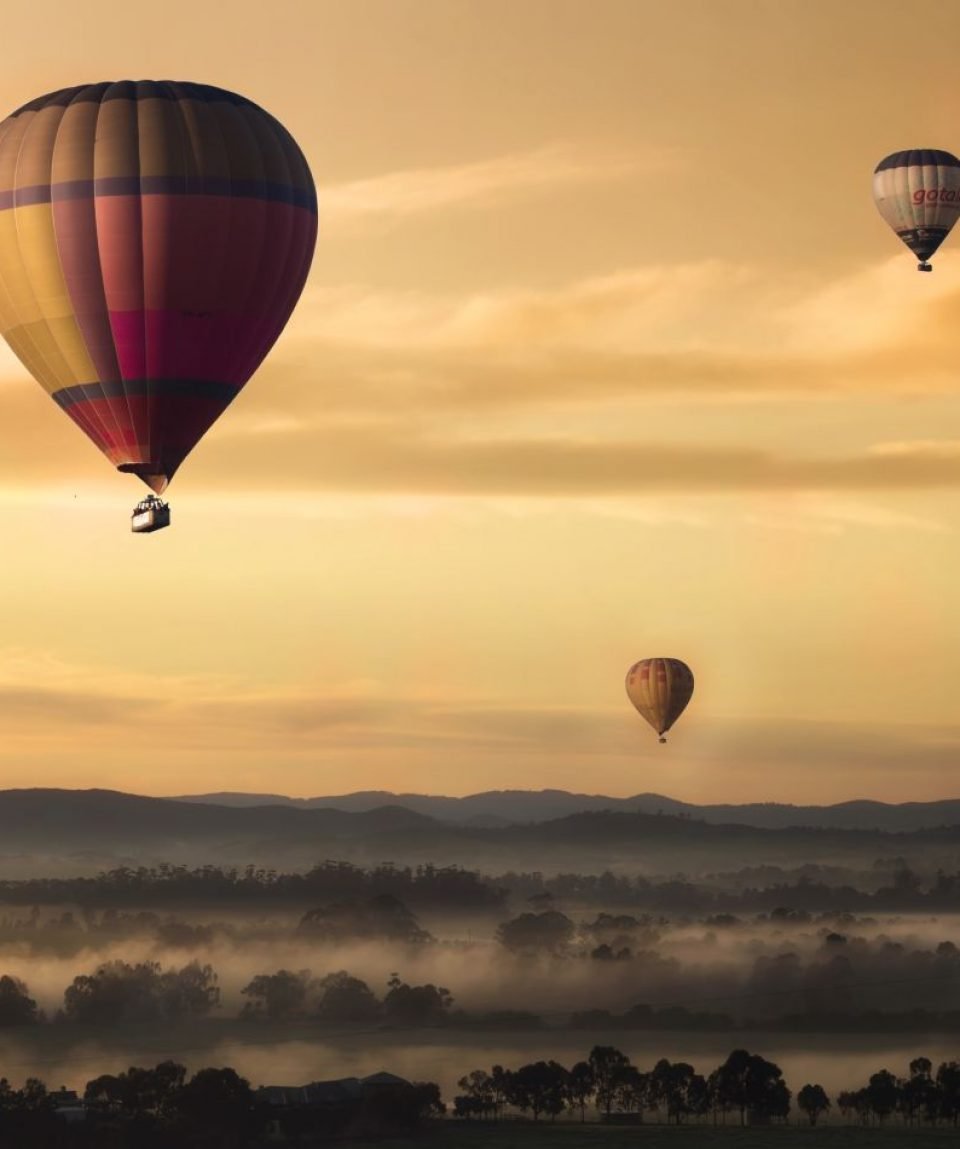 Hot Air Ballooning
Roam the skies of Sri Lanka enjoying the sights from the heavens above. Floating at heights of 500 to 2,000 feet on an average, effortlessly drift over the treetops, wildlife, lakes & rivers, cultural sites, local urban homesteads & landmarks like Sigiriya Rock. The sunrise rides are offered at day break to enhance the experience with magic of dawn.
Vacation Style Holiday Type

Asia

Balloon

Beach

Hiking

Mountain

Nature, Outdoor Activity
All about the Hot Air Ballooning.
As the multi-coloured hot-air balloon drifts silently above the forest, adventure takes on a whole new meaning.
Startled by the noise of a sudden burst of gas keeping the balloon aloft, a couple of peacocks take flight directly below the balloon's basket, their outrageously long iridescent blue and emerald tail feathers streaming behind like a psychedelic jet stream. Several deer dart nervously across a clearing below, but the small herd of elephants continues feeding, utterly unfazed by this aerial intruder.
Balloons that travel with the wind, make for one of the most surreal and tranquil sensations of flight. Following the initial adrenaline rush of the take off, one could settle down to absorb the wonder of the colorful earth below.
Sri Lanka Balloon Rides generally take place in the early morning (because the weather is more stable), and the average distance we cover, in accordance with the wind speed and direction, is anywhere from one to ten miles.
Day 1

Bandaranaike International Airport - Negombo

Highlights: Beaches, City Tours, Dambulla Cave temple, Ancient City of Polonnaruwa, Hot Air Balloon ride, Elephant Back Safari, Sigiriya Rock fortress, Spice garden, Cultural Show, Cycle tour, Hill Station, Tea Plantations, Horse Riding, Trekking, Canoeing, Wildlife Safari, White Water Rafting, Bird Watching, Jungle Walks

Following your arrival, head to the beach town of Negombo and rest of the day at leisure to explore the town and its beaches.

Day 2

Negombo - Dambulla - Hirwadunna

After breakfast, transfer to Dambulla. Dambulla is thought to have been a place of worship since the 1st century BC, when King Valagamba (also known as Vattagamani Abhaya), driven out of Anuradhapura, took refuge here. When he regained his throne, he had the interior of the caves carved into magnificent rock temples. Further paintings were made by later kings, including King Nissanka Malla, who had the caves' interiors gilded, earning the place the name Ran Giri (Golden Rock).
Trek to village of Hirwadunna and experience village life with Sri Lankan style lunch.

Overnight in Dambulla.

Day 3

Dambulla - Hot Air Balloon - Polonnaruwa

Transfer from rendezvous to takeoff point. The launch and picturesque landscape at sunrise, as nature awakens to the first rays of the new day is the reward to an early start.
On landing, the smiling faces and hearty welcomes of the local villagers coming to greet you is an unexpected delight. Coming down to earth and the reality of returning to life as seen from the ground.
Proceed to Polonnaruwa to visit ancient ruins.
Kings ruled the central plains of Sri Lanka from Polonnaruwa 800 years ago, when it was a thriving commercial and religious centre. The glories of that age can be found in the archaeological treasures that still give a pretty good idea of how the city looked in its heyday. You'll find the archaeological park a delight to explore, with hundreds of ancient structures – tombs and temples, statues and stupas – in a compact core.
In evening, enjoy Elephant Back Safari.

Overnight in Dambulla.

Day 4

Dambulla - Sigiriya - Matale - Kandy

After breakfast visit Sigiriya Rock Fortress.
Rising dramatically from the central plains, the enigmatic rocky outcrop of Sigiriya is perhaps Sri Lanka's single most dramatic sight. Near-vertical walls soar to a flat-topped summit that contains the ruins of an ancient civilisation, thought to be once the epicentre of the short-lived kingdom of Kassapa, and there are spellbinding vistas across mist-wrapped forests in the early morning.
Sigiriya refuses to reveal its secrets easily, and you'll have to climb a series of vertiginous staircases attached to sheer walls to reach the top. On the way you'll pass a series of quite remarkable frescoes and a pair of colossal lion's paws carved into the bedrock. The surrounding landscape – lily-pad-covered moats, water gardens and cave shrines.
Transfer to Kandy; en-route visit a spice garden in Matale to see different spices for which Sri Lanka is famous for. Clients will be able to see different spices and how some of these spices are grown and processed. Witness cookery demonstrations as well as visit ceramic showroom in Matale.
Thereafter, spend the evening getting mesmerized by a concert showcasing traditional Sri Lankan music and dance in Kandy.

Day 5

Kandy

After breakfast, set on a cycle tour of Kandy.
Some days Kandy's skies seem perpetually bruised, with stubborn mist clinging to the hills surrounding the city's beautiful centrepiece lake. Delicate hill-country breezes impel the mist to gently part, revealing colourful houses amid Kandy's improbable forested halo. In the centre of town, three-wheelers careen around slippery corners, raising a soft spray that threatens the silk saris worn by local women. Here's a city that looks good even when it's raining. And when the drizzle subsides, cobalt-blue skies reveal a city of imposing colonial-era and Kandyan architecture, none more impressive than the Temple of the Sacred Tooth Relic, one of Buddhism's most sacred shrines.
Later visit the Temple of the Sacred Tooth Relic. The golden-roofed Temple houses Sri Lanka's most important Buddhist relic – a tooth of the Buddha. During puja (offerings or prayers), the heavily guarded room housing the tooth is open to devotees and tourists. However, you don't actually see the tooth. It's kept in a gold casket shaped like a dagoba (stupa), which contains a series of six dagoba caskets of diminishing size.

Day 6

Kandy - Nuwara Eliya

After breakfast, transfer to Nuwara Eliya.
Often referred to as 'Little England', this genteel highland community does have a rose-tinted, vaguely British-country-village feel to it, with its colonial-era bungalows, Tudor-style hotels, well-tended hedgerows and pretty gardens. Indeed Nuwara Eliya was once the favoured cool-climate escape for the hard-working and hard-drinking English and Scottish pioneers of Sri Lanka's tea industry.
Nuwara Eliya is a city in the tea country hills of central Sri Lanka. The naturally landscaped Hakgala Botanical Gardens displays roses and tree ferns, and shelters monkeys and blue magpies. Nearby Seetha Amman Temple, a colorful Hindu shrine, is decorated with religious figures. Densely forested Galway's Land National Park is a sanctuary for endemic and migratory bird species, including bulbuls and flycatchers.

Overnight in Nuwara Eliya.

Day 7

Nuwara Eliya

Enjoy Horse Riding in Nuwara Eliya.
High in the mountains, dramatically framed by a landscape of tea plantations the town of Nuwara Eliya is the home to the Nuwara Eliya Race Course.

Overnight in Nuwara Eliya.

Day 8

Nuwara Eliya - Horton's Plains - Ella

Horton Plains, the coldest and windiest location in Sri Lanka consists of ecosystems such as Montane evergreen forests, grasslands, marshy lands and aquatic ecosystem. The escarpment with a depth of 900 meters called World's End and Baker's Falls are the highlights of the Horton Plains.

Overnight in Ella.

Day 9

Ella - Thissamaharama

After breakfast, transfer to Thissamaharama
After lunch, Canoeing in the scenic lake in Tissamaharama to see beautiful islands, lake fishermen and many sights of the locality around Yala and Tissamaharama.

Overnight in Thissamaharama.

Day 10

Thissamaharama - Yala National Park - Koggala

In the morning, set on a private Jeep Safari in the Yala National Park.
Yala National Park, lies 24 km. northeast of Tissamaharama on the southeast coast of Sri Lanka, spanning a vast 97,878 hectares.
The vegetation in the park comprises predominantly of semi-arid thorny scrub, interspersed with pockets of fairly dense secondary forest. Small patches of mangrove vegetation also occur along the coastal lagoons. The park is renowned for the variety of its wildlife and its fine coastline. It also boasts a large number of important cultural ruins, bearing testimony to earlier civilizations and indicating that much of the area used to be populated and well developed. Spend the time within the Yala wildlife reserve in pursuit of elephants and elusive leopards.

Overnight in Koggala.

Day 11

Koggala

Leisure in beach activities (Snorkeling / Scuba)

Overnight in Koggala.

Day 12

Koggala - Mirissa

Early morning transfer to Mirissa. Whale and dolphin watching are exciting and unique activities of Mirissa. The frequent sighting all year round has put Sri Lanka and the Mirrissa area on the worlds 'Top Hot Spots' for Sperm and Blue whale sightings.

Overnight in Koggala.

Day 13 & 14

Kogalla - Galle - Kithulgala

After breakfast, transfer to Galle.
Galle is a jewel. A Unesco World Heritage Site, this historic city is a delight to explore on foot, an endlessly exotic old trading port blessed with imposing Dutch-colonial buildings, ancient mosques and churches, grand mansions and museums. Wandering its rambling lanes you'll pass stylish cafes, quirky boutiques and impeccably restored hotels owned by local and foreign artists, writers, photographers and designers. Built by the Dutch, beginning in 1663, Galle's core is the Fort, a walled enclave surrounded on three sides by the ocean. A key part of the Fort's appeal is that it isn't just a pretty place.
Inside the jungles of Kitulgala, there are plenty of camping opportunities which can be coupled with White Water Rafting, Bird Watching, Jungle Walks, River bathing and many other adventure activities.

Overnight in Kithulgala.

Day 15

Kithulgala - Colombo - BIA

After breakfast, transfer to Colombo.
Set on a sightseeing tour in the city of Colombo.
Your afternoon tour of this colorful city will take you from its noisy bazaars to its fashionable residential area passing places where Grand Colonial era buildings stand alongside modern office structures. The diversity of religion, ethnicity and customs of the people in this city becomes very evident.
This is a sample itinerary to inspire your holiday – it can be tweaked in every way possible from the places you want to go to and number of days you spend in each, as well as hotels you stay in and activities you do. Get in touch with one of our experts by calling +91 98226 66560 and we will start creating your perfect trip.