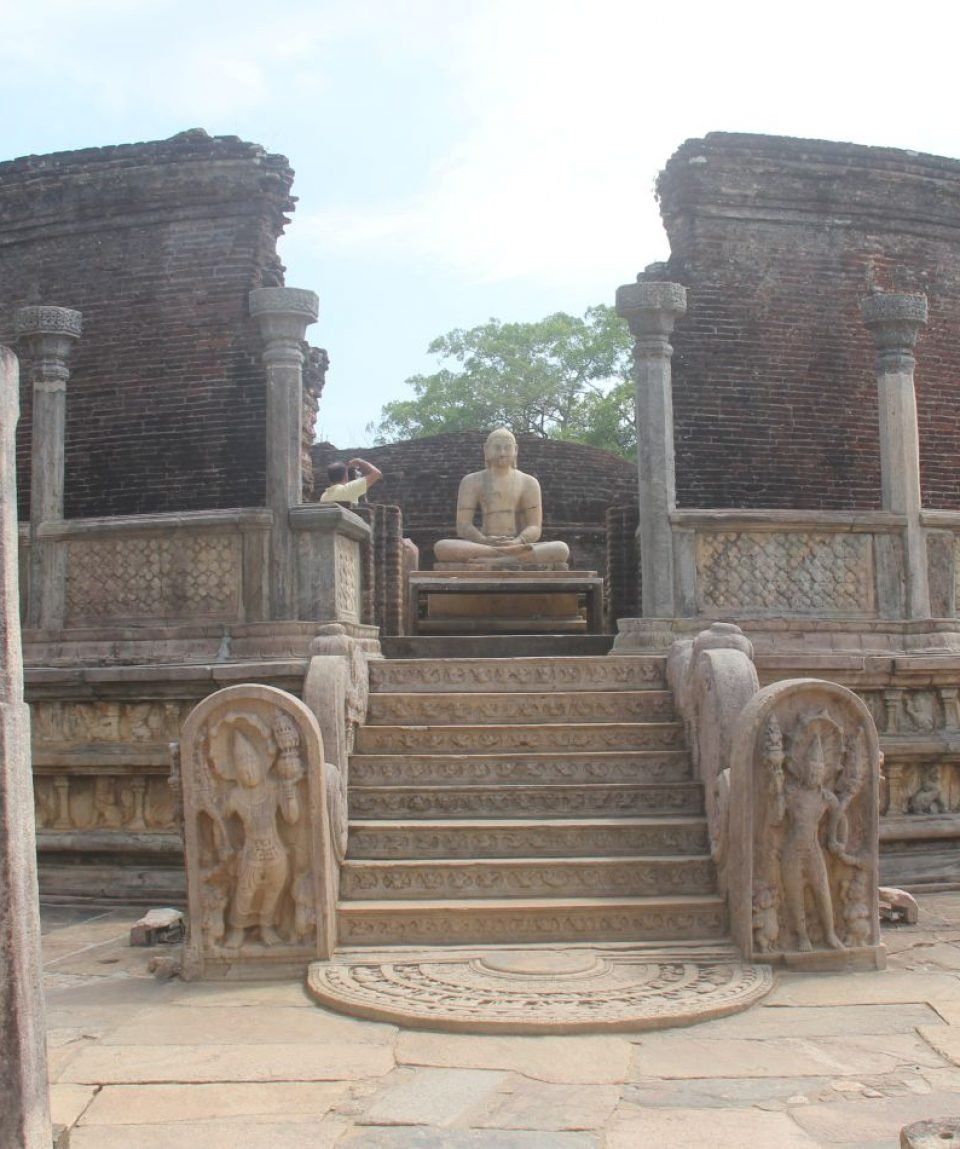 Ancient Cities & New
Sri Lanka with its nearly 2,500 years of history holds some of world's ancient cities including Anuradhapura, Polonnaruwa and Digamadulla.
Vacation Style Holiday Type

Asia

Beach

Jungle

Mountain

Urban

Heritage
All about the Ancient Cities & New.
Remnants of once glorious cities, their palaces, temples, monasteries, hospitals and theaters intricately carved and modeled out of stone lay abandoned amidst the soaring mountains.
Polonnaruwa, the second most ancient kingdom of the country was first made the political center of the country in the 9th century BC. Irrigation systems that are far superior to those of the Anuradhapura Age were constructed in Polonnaruwa kingdom, and still provide irrigation water to the farmers in and around Polonnaruwa. Yet the kingdom's glory was short-lived and a South Indian invasion pushed the political centre towards the centre of the country by the 11th century. Today the ancient city of Polonnaruwa remains one of the best planned archaeological relic sites in the country, a testimony to the discipline and greatness of the Kingdom's first rulers.
Day 1

Bandaranaike International Airport - Negombo

Highlights: Wildlife Safari, Pinnawala Elephant Orphanage, Temple of the Sacred Tooth Relic, Cultural show, Dambulla Cave temple, Sigiriya Rock fortress, Ancient City of Polonnaruwa, Hill station, Train Ride, Beaches, City tours

Following your arrival, head to the beach town of Negombo and rest of the day at leisure to explore the town and its beaches.

Day 2

Negombo - Dambulla

After breakfast, proceed to the Cultural Triangle. En-route visit the Pinnawala Elephant Orphanage, where more than 60 orphaned and injured elephants are cared for. You could be a part of their daily routine by bottle feeding the young ones or by lending a hand to bathe them in the nearby river. Then visit the Golden Cave Temple in Dambulla.

Dambulla is thought to have been a place of worship since the 1st century BC, when King Valagamba (also known as Vattagamani Abhaya), driven out of Anuradhapura, took refuge here. When he regained his throne, he had the interior of the caves carved into magnificent rock temples. Further paintings were made by later kings, including King Nissanka Malla, who had the caves' interiors gilded, earning the place the name Ran Giri (Golden Rock).

Day 3

Sigiriya - Polonnaruwa

After breakfast visit Sigiriya Rock Fortress.

Rising dramatically from the central plains, the enigmatic rocky outcrop of Sigiriya is perhaps Sri Lanka's single most dramatic sight. Near-vertical walls soar to a flat-topped summit that contains the ruins of an ancient civilisation, thought to be once the epicentre of the short-lived kingdom of Kassapa, and there are spellbinding vistas across mist-wrapped forests in the early morning.

Sigiriya refuses to reveal its secrets easily, and you'll have to climb a series of vertiginous staircases attached to sheer walls to reach the top. On the way you'll pass a series of remarkable frescoes and a pair of colossal lion's paws carved into the bedrock. The surrounding landscape comprises lily-pad-covered moats, water gardens and cave shrines.

Later in the day, visit the ancient city of Polonnaruwa. Kings ruled the central plains of Sri Lanka from Polonnaruwa 800 years ago, when it was a thriving commercial and religious centre. The glories of that age can be found in the archaeological treasures that still give a pretty good idea of how the city looked in its heyday. You'll find the archaeological park a delight to explore, with hundreds of ancient structures – tombs and temples, statues and stupas – in a compact core.

Day 4

Sigiriya - Kandy

Set on a sightseeing tour in the city of Kandy.

Some days Kandy's skies seem perpetually bruised, with stubborn mist clinging to the hills surrounding the city's beautiful centrepiece lake. Delicate hill-country breezes impel the mist to gently part, revealing colourful houses amid Kandy's improbable forested halo. In the centre of town, three-wheelers careen around slippery corners, raising a soft spray that threatens the silk saris worn by local women. Here's a city that looks good even when it's raining. And when the drizzle subsides, cobalt-blue skies reveal a city of imposing colonial-era and Kandyan architecture, none more impressive than the Temple of the Sacred Tooth Relic, one of Buddhism's most sacred shrines.

Spend the evening getting mesmerized by a concert showcasing traditional Sri Lankan music and dance. Later visit the Temple of the Sacred Tooth Relic. The golden-roofed Temple houses Sri Lanka's most important Buddhist relic – a tooth of the Buddha. During puja (offerings or prayers), the heavily guarded room housing the tooth is open to devotees and tourists. However, you don't actually see the tooth. It's kept in a gold casket shaped like a dagoba (stupa), which contains a series of six dagoba caskets of diminishing size.

Day 5

Kandy - Nanuoya - Nuwara Eliya

After breakfast set on a scenic train ride from Peradeniya to Nanuoya.

Your train journey takes you on a scenic ride through some of the most beautiful highland countryside areas in Sri Lanka. Watch the brilliant green carpets of the tea plantations. See the picturesque villages with misty mountain backdrops pass by. Peer through drizzle and mist to look at the magical landscapes of Hill Country. Enjoy the amazing sights of intimidating mountains, deep and dark woodlands, and magnificent waterfalls as they go by your windows.

Arrive in Nanu Oya and transfer to Nuwara Eliya.

Often referred to as 'Little England', this genteel highland community does have a rose-tinted, vaguely British-country-village feel to it, with its colonial-era bungalows, Tudor-style hotels, well-tended hedgerows and pretty gardens. Indeed Nuwara Eliya was once the favoured cool-climate escape for the hard-working and hard-drinking English and Scottish pioneers of Sri Lanka's tea industry.

Nuwara Eliya is a city in the tea country hills of central Sri Lanka. The naturally landscaped Hakgala Botanical Gardens displays roses and tree ferns, and shelters monkeys and blue magpies. Nearby Seetha Amman Temple, a colorful Hindu shrine, is decorated with religious figures. Densely forested Galway's Land National Park is a sanctuary for endemic and migratory bird species, including bulbuls and flycatchers.

Day 6

Nuwara Eliya - Yala National Park

After breakfast, transfer to Yala National Park. In the afternoon, set on a private Jeep Safari in the Yala National Park.

Yala National Park, lies 24 km. northeast of Tissamaharama on the southeast coast of Sri Lanka, spanning a vast 97,878 hectares.

The vegetation in the park comprises predominantly of semi-arid thorny scrub, interspersed with pockets of fairly dense secondary forest. Small patches of mangrove vegetation also occur along the coastal lagoons. The park is renowned for the variety of its wildlife and its fine coastline. It also boasts a large number of important cultural ruins, bearing testimony to earlier civilizations and indicating that much of the area used to be populated and well developed. Spend the time within the Yala wildlife reserve in pursuit of elephants and elusive leopards.

Day 7

Yala National Park - Unawatuna

Transfer to Unawatuna and for sightseeing in Galle.

Galle is a jewel. A Unesco World Heritage Site, this historic city is a delight to explore on foot, an endlessly exotic old trading port blessed with imposing Dutch-colonial buildings, ancient mosques and churches, grand mansions and museums. Wandering its rambling lanes you'll pass stylish cafes, quirky boutiques and impeccably restored hotels owned by local and foreign artists, writers, photographers and designers. Built by the Dutch, beginning in 1663, Galle's core is the Fort, a walled enclave surrounded on three sides by the ocean. A key part of the Fort's appeal is that it isn't just a pretty place.

Evening at leisure to enjoy the pool and beach in Unawatuna.

Day 8

Unawatuna

Day at leisure to relax and enjoy at the hotel or discover the city of Unawatuna and enjoy some water sports.

Day 9

Unawatuna - Rumassala - Colombo - BIA

Transfer to Colombo and en route visit Rumassala.

Green forested hills sloping down to a sandy cove, a rocky headland pounded by the waves of the Indian Ocean, and panoramic views across a bay dotted by fishing boats bobbing in the ocean swell – there is only one place along the south coast of Sri Lanka that provides all this, the beautiful and historical Rumassala hill.

According to the Ramayana, the ancient Sanskrit epic, Hanuman, the Indian monkey god required several medicinal herbs in order to treat the wounded brother of Lord Ram during his battle against the demon king Ravana of Sri Lanka. Hanuman flew to India and brought back a piece of the Himalayas with the required plants but accidently dropped a chunk at Rumassala. Local villagers attribute this as the source of many rare medicinal plants found in the area to this day. There is a large statue depicting Hanuman.

Atop the hill there is also a large glistening Buddhist dagoba popularly known as the peace pagoda, built with the assistance of Japanese monks. A walk around the peace pagoda provides magnificent views across Galle bay, with the Galle town and Dutch fort visible on the far side.

In the afternoon, set on a sightseeing tour in the city of Colombo.
Your afternoon tour of this colorful city will take you from its noisy bazaars to its fashionable residential area passing places where Grand Colonial era buildings stand alongside modern office structures. The diversity of religion, ethnicity and customs of the people in this city becomes very evident.
This is a sample itinerary to inspire your holiday – it can be tweaked in every way possible from the places you want to go to and number of days you spend in each, as well as hotels you stay in and activities you do. Get in touch with one of our experts by calling +91 98226 66560 and we will start creating your perfect trip.