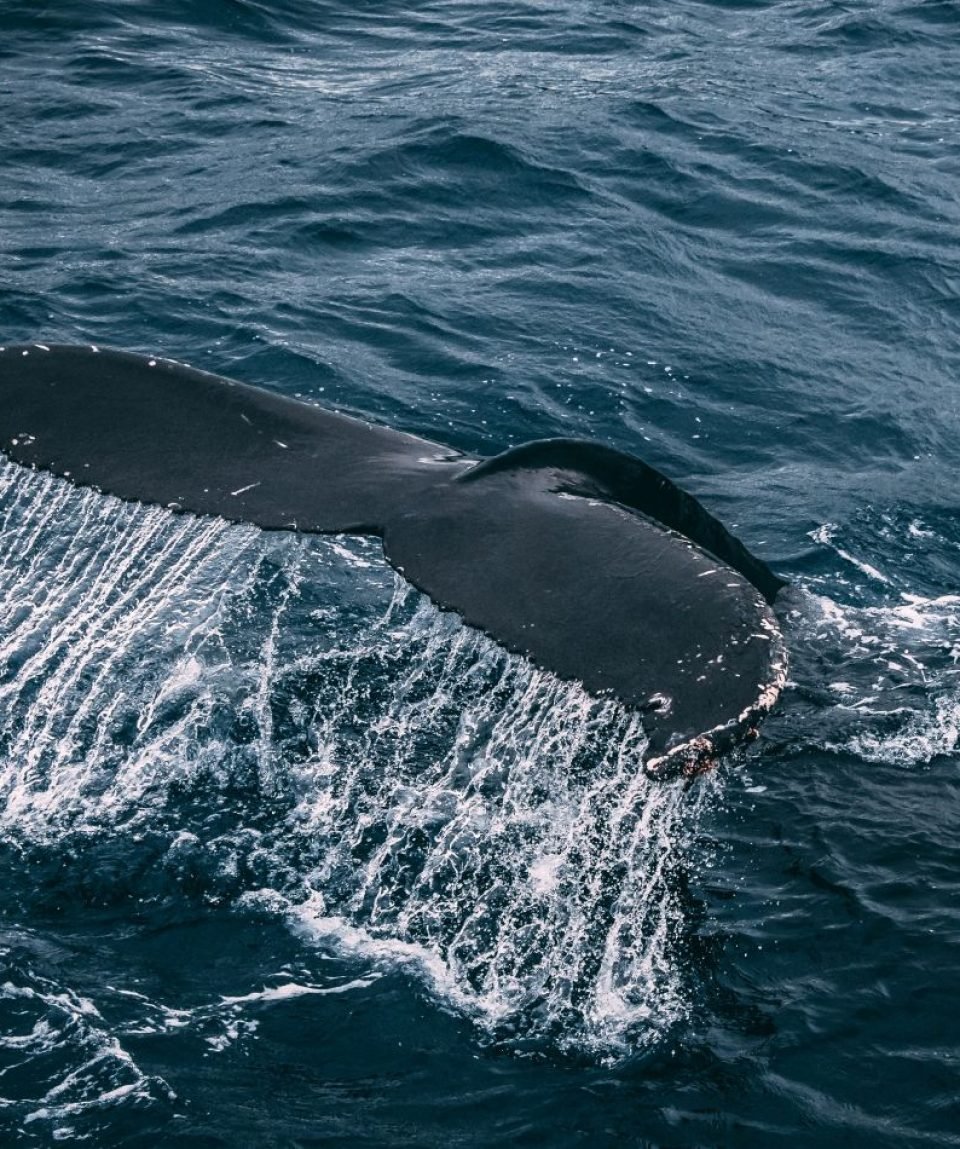 Whale Watching
The ocean around Sri Lanka is home to the gentle giants and the performers of the ocean. Dolphins and whales parade their presence at various locations around Sri Lanka during the months from December-April. Being situated on and around the migrating routes of whales and dolphins, Sri Lanka is in a vantage point to observe the migration of 26 species of cetaceans including blue whales, sperm whales, pilot whales, fin whales and a large variety of dolphins.
Vacation Style Holiday Type

Asia

Camping

Dolphin-76

Family

Urban

Water-sea

Nature, Outdoor Activity
All about the Whale Watching.
Blue Whales – the largest creatures on Earth – as well as fin whales, sei whales, sperm whales, orcas (killer whales), dolphins, flying fish, turtles, manta rays and whale sharks can all be seen during a whale watching trip a few miles off the South Coast of Sri Lanka. The ever smiling, mischievous dolphins will put on a show while some of the oldest and the largest sea creatures, the humpback and the blue whales, will nonchalantly glide past you, when you embark on a whale/dolphin watching excursion off the Southern, Eastern or the Western coast of Sri Lanka.
The ideal locations for whale watching would be Dondra Point (accessible from Galle, Hikkaduwa and Mirissa) and Trincomalee while the sea off Kalpitiya teems with an abundance of dolphins.
Day 1

Bandaranaike International Airport - Sinharaja

Highlights: Bird watching, Wildlife Sanctuaries, Whale watching, City tours, Camping, Elephant Orphanage

The trip from Bandaranaike International Airport to Sinharaja passes by the golden beaches, through the sleepy villages and green blankets of paddy fields and rubber estates. An ideal beginning to an adventurous journey in Sri Lanka.

Day 2

Sinharaja

Sinharaja, Sri Lanka's last viable primary tropical rainforest with a vast collection of endemic vegetation, wildlife, especially birds and amphibians. Sinharaja is renowned for the Sinharaja bird wave where birds of different species fly in unison. Enjoy both a morning and evening bird watching sessions in the company of towering trees of Sinharaja.

Day 3

Sinharaja - Galle

Galle is a jewel. A UNESCO World Heritage Site, this historic city is a delight to explore on foot, an endlessly exotic old trading port blessed with imposing Dutch-colonial buildings, ancient mosques and churches, grand mansions and museums. Wandering its rambling lanes you'll pass stylish cafes, quirky boutiques and impeccably restored hotels owned by local and foreign artists, writers, photographers and designers. Built by the Dutch, beginning in 1663, Galle's core is the Fort, a walled enclave surrounded on three sides by the ocean. A key part of the Fort's appeal is that it isn't just a pretty place.

Day 4

Mirissa

Mirissa itself is a quiet and peaceful coastal town boasting of unspoiled beaches. Blue whales, Brydes whales, Sperm whales, Fin whales, bottle nose dolphins, common dolphins and Spinner dolphins grace the waters of Southern seas of Sri Lanka from Weligama to Mirrissa and can be found within just eight to ten nautical miles from Mirissa harbor.

Day 5

Mirissa - Yala National Park

As the dusk spreads around the trees of Yala set on an evening safari in Yala in pursuit of the elusive leopards and elephants.

Yala National Park, lies 24 km. northeast of Tissamaharama on the southeast coast of Sri Lanka, spanning a vast 97,878 hectares. The vegetation in the park comprises predominantly of semi-arid thorny scrub, interspersed with pockets of fairly dense secondary forest. Small patches of mangrove vegetation also occur along the coastal lagoons. The park is renowned for the variety of its wildlife and its fine coastline. It also boasts a large number of important cultural ruins, bearing testimony to earlier civilizations and indicating that much of the area used to be populated and well developed.

Day 6

Yala National Park - Udawalawa

See Yala in its full glory basking in the morning sunlight. Head to Udawalawa, another sanctuary famed for elephants in the afternoon following lunch. Spend the night at a luxury camp in the midst of Udawalawa sanctuary.

Day 7

Udawalawa

Tour the Udawala wildlife sanctuary in search of wild elephants and drop by at the Ath Athru Sevana, elephant transit home, where orphaned elephant babies are rehabilitated for a life in the jungle.

Day 8

Udawalawa - Colombo

Return to Colombo after an adventurous journey to the wild and untamed Sri Lanka.

Set on a sightseeing tour in the city of Colombo.

Your afternoon tour of this colorful city will take you from its noisy bazaars to its fashionable residential area passing places where Grand Colonial era buildings stand alongside modern office structures. The diversity of religion, ethnicity and customs of the people in this city becomes very evident.

Day 9

Colombo - BIA

Transfer to Colombo en route to the International Airport.
This is a sample itinerary to inspire your holiday – it can be tweaked in every way possible from the places you want to go to and number of days you spend in each, as well as hotels you stay in and activities you do. Get in touch with one of our experts by calling +91 98226 66560 and we will start creating your perfect trip.