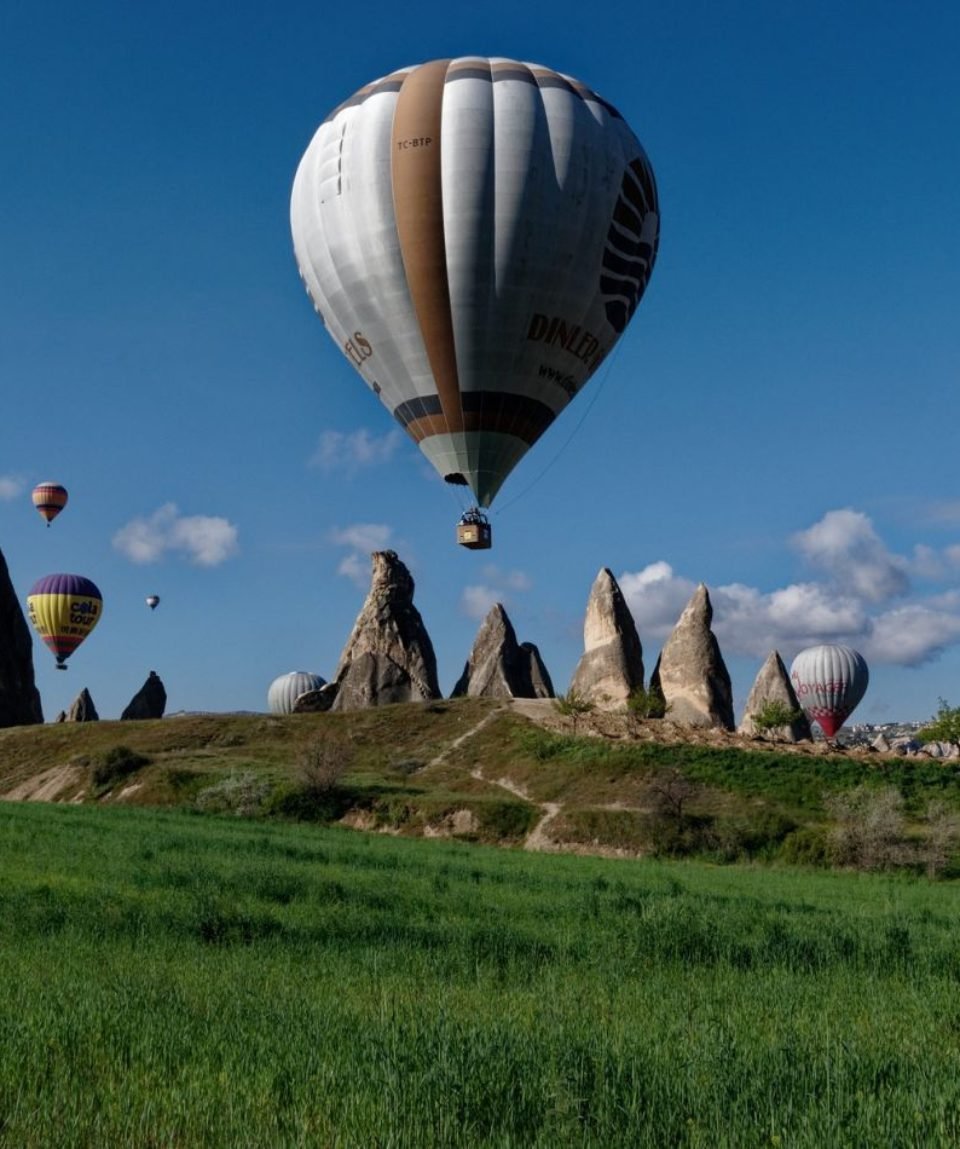 Highlights of Turkey
If you're looking for a destination with fantasy-movie like strange beauty, rich history, amazing culture, insane bazaars and good food then you really have to visit Turkey. By finely balancing age-old traditions with modern influences, Turkey promises travelers an unforgettable experience.
Vacation Style Holiday Type

Asia

Balloon

Culture1

Family

Hiking

Urban

Heritage, Outdoor Activity
All about the Highlights of Turkey.
At first it may appear that Turkey mostly suits cultural travelers. After all, it sits on the cusp of both Europe and Asia, it's no wonder that the Turkish heritage is a fascinating fusion of various cultures. However, Turkey is an amazing destination for literally every kind of traveler. Adventure seekers, backpackers, families, fantasy landscape chasers, pilgrims and party travelers – they all will love Turkey for same as well as different reasons.
From the fascinating, sweeping views of Cappadocia, the ethereal hot springs of Pamukkale, ancient ruins of Ephesus and vibrant culture of Istanbul – what more could you ask for from one of the best 11 days Turkey itineraries?
Day 1

Arrival in Istanbul

Start off your trip to Turkey by arriving in the bustling city of Istanbul. Your first day of Istanbul itinerary will be a light and relaxed and yet will highlight the captivating history and culture of the city. You will return to Istanbul towards the end of your trip and that's when you will visit the majority of important landmarks.

The best place to start off after touch down is Sultanahmet Square. Today, Sultanahmet Square is a historical area that is filled with various iconic attractions, and within close walking distance to other major landmarks such as Hagia Sophia and the Blue Mosque. In the past, the square was the Hippodrome of Constantinople, the social and sporting center of the Byzantine Empire.

Take your time to discover the Serpent Column, the Obelisk of Thutmose, the Walled Obelisk, and the German Fountain before making your way to Gulhane Park. It is nice to walk around here in the evenings and see the colorful fountain. The minarets of the Blue Mosque and Hagia Sophia look spectacular when they're lit up.

Gulhane Park is a short 10-minute walk from Sultanahmet Square and offers a relaxing, tranquil escape from the busyness of Istanbul's tourist center. The historical, urban park stretches alongside the famous Topkapi Palace, even extends to its grounds.

Your first day in Istanbul serves as an introduction to the rich history that resonates across the whole country.

Overnight at the hotel.

Day 2

Istanbul to Cappadocia

Wake up early enough to make the most of your day, prepare to have your mind blown as you leave Istanbul. Cappadocia awaits!

After an easy one and a half hour flight, you'll arrive in Cappadocia, the breathtaking semi-arid region known best for its honeycombed hills.

Prepare to spend the night at one of the cave hotels in Goreme. Now that you've found your nest, it's time to explore the wonder of Cappadocia. The tour takes you to explore Derinkuyu underground city and marvel at the view from Ugrup Panorama point.

After going back to the comfort of the hotel for a well-deserved rest, you'll go for an evening stroll to Goreme sunset point before bed. The insurmountable beauty of this view is sure to stay with you for a lifetime.

Overnight at the hotel.

Day 3

Cappadocia and Göreme

On your third day in Turkey, you get to tick off one of the most iconic activities in the region – soaring above the ground in a hot air balloon ride in Cappadocia. After a restful night in the hotel, you'll get picked up around 4:30 am by the balloon company. Prepare yourself for the magical experience that is to come as you watch the incredible sunrise while climbing 3,000 feet above the ground. Ready yourself to take pictures of the fairy chimneys, volcanic spires and unique architecture of the buildings below.

You'll get dropped off at your hotel in the mid-morning, giving you enough time to catch a nap and relax before grabbing lunch. Once your belly is satisfied by tasty flavors of Turkey, head over to Goreme Open Air Museum, a UNESCO World Heritage Site. It includes the most magnificent rock-cut churches, beautiful frescoes and rock-formed architecture.

If you still have energy, make your way to the nearby Zemi Valley for a hike. It is very close to the Goreme Open Air Museum. It is also known as Love Valley because of it's penis shaped structures – or more politely called the fairy chimneys.

Finally, end your day by catching the sunset in Red Valley, which also happens to be our top choice for Instagram-worthy spots in Cappadocia. This promises to be the perfect way to end your day before returning to sleep in Ottoman Cave.

Overnight at the hotel.

Day 4

Cappadocia

Day four of your Turkey itinerary starts off brightly by catching the sunrise and enjoying a hearty breakfast at the hotel before heading to Uchisar. The sky looks amazing as it gets flooded with hundreds of hot air balloons while the sun rises.

Once in Uchisar, the highest point in Cappadocia, you'll check in at the hotel.

From here, make your way to Gumusler Monastery. Turkey was the center of the Byzantine Empire, and the Gumusler Monastery is a cave monastery that reflects this history. It is carved out of a large rock and is considered one of the best-preserved in the region.

Next, head to Uchisar Castle. The castle is a fascinating rock-citadel that is perched on a rock spur. The views from the top are out of this world. You'll get there around 5:30 pm or 6 pm so that you can explore before watching the sun dip behind the fascinating rock formations.

While you are in the area, choose from the many wonderful Turkish restaurants and enjoy dinner before heading back for the night at the hotel.

Day 5

Cappadocia to Pamukkale

Having wrung every ounce of goodness from Cappadocia, it's time to fly to Denizli. When you arrive in Denzili by flight, it is very easy to reach Pamukkale because the trip is short and shouldn't take longer than 15 minutes to half an hour. Pamukkale village will be your home for the night.

The white travertine pools are the main highlight of Pamukkale but we will leave that for tomorrow morning. Today is the day to walk around and explore Pamukkale's little market. This market is a good place to buy handmade souvenirs because it is much cheaper as compared to other places in Turkey.

Day 6

Pamukkale

Having spent a large portion of the day before traveling, your sixth day in Turkey is dedicated to exploring the surreal environment and travertine thermal pools of Pamukkale. You'll start your day early and reach Pamukkale's travertine pools by 8 am to avoid crowds.

The beautiful, white, terraced waters invite you to indulge in the offerings of the 'spa town'. The pools offer a great way to unwind and relax, while enjoying the beauty of the surroundings.

Walk around over Pamukkale's mineral rich formations, sit inside one of the pools and make dozens of pretty photos. Spend enough time here so that you can check out the other attractions within this complex.

While you're exploring Pamukkale's traventine complex, there's another famous pool that you can enjoy here – the Cleopatra's Pools, also known as the Antique pool.

As tempting as it is to wallow in the 'healing waters' of the hot springs all day, you'll also visit Hierapolis, the ancient Roman city. The settlement boasts a fascinating history, and iconic attractions such as the Hierapolis Theatre, Necropolis and Museum.

Enjoy a nice Turkish lunch in Pamukkale before you check out of the hotel and head to Ephesus by hopping on a bus from Denzili to Selcuk.

Day 7

Ephesus

Having spent one week in Turkey, Ephesus introduces a new and exciting adventure to your trip.

The lost city of Ephesus has a lot to explore, and you want to get the most of it before all of the day-trippers arrive. Alternatively, you can visit it right before the complex closes when it isn't so crowded.

You'll enter Ephesus at the lower gate, which is closer to Selcuk town. The entire city of Ephesus is a World Heritage Site and a shining example of Greek and Roman architecture and history. Whether or not you are a history-lover, Ephesus is sure to leave you in awe at the marvelous ruins that tell stories of centuries gone by in the ancient port city. Some key sights to include on your agenda are the Library of Celsus and Ephesus Amphitheater.

There are things to see outside the walled ruins too. These attractions are close to the Lower Gate. The Temple of Artemis, Basilica of St. John, Isa Bey Mosque, Ayasoluk Castle and Ephesus Archaeological Museum among many others.

After soaking up as much history and culture as you possibly can, spend a relaxing evening with a beer and cool off at a bar.

Prepare to leave the next day for Istanbul on a flight.

Day 8

Arrival in Istanbul

Your eighth day in Turkey will start off with a morning flight from Izmir to Istanbul. Check into your Istanbul hotel and head straight to a Turkish hamam for a relaxing massage.

These hamams are all over the city, and offer a variety of services. You can choose from a self-service option, a traditional hamam which offers the real Turkish bath experience, or other styles which include aromatherapy massages, reflexology and facial clay masks.

After your hammam experience, you should feel rested and revived. Make your way to the Bosphorus River. Kick back, relax and enjoy a sunset cruise on the Bosphorus River, taking in the unique perspective of the city.

One of the most popular and scenic spots for nightlife in Istanbul is the Bosphorus area. Here you will find many places where you can enjoy your food and drinks with a view of the Bosphorus.

Day 9

Istanbul

Istanbul has got so much to offer, and as your trip draws to a close, it's time to put on your comfortable walking shoes and prepare to explore the historical Istanbul. There are a few must-see attractions that can't be missed and are added to your Istanbul itinerary. These are all located near one another, and can be explored in one go.

The Blue Mosque, Hagia Sophia, Hippodrome, and Basilica Cistern are a stone's throw away from one another, each offering a uniquely special and touching experience. The Galata Bridge and Tower is slightly further away, but still walkable and definitely worth a visit. Galata District is a good spot to enjoy the nightlife in Istanbul.

Day 10

Istanbul

While Istanbul is rich in history, it is also buzzing with a lively atmosphere. At the center of this culture are a large number of bazaars and markets that can be found in the city. From the sharp and sultry aromas of the Spice Bazaar to the Turkish lanterns and carpets at the Grand Bazaar, the hustle and bustle of the city is unrelenting.

When you are not snacking on the Turkish delight treats or bargaining the price of a golden trinket, you'll visit Süleymaniye Mosque, an iconic landmark in Istanbul. The Ottoman imperial mosque is staggering in size and quite a sight to behold.

Day 11

Departure from Istanbul

Flying out of Istanbul on day 11 will leave you with a light heart and a mind full of memories. Depending on your departure details, you may have time to visit local museums and markets or simply sit down on the terrace of the hotel and enjoy the leisure time.
This is a sample itinerary to inspire your holiday – it can be tweaked in every way possible from the places you want to go to and number of days you spend in each, as well as hotels you stay in and activities you do. Get in touch with one of our experts by calling +91 98226 66560 and we will start creating your perfect trip.